FC-8910H One Door Access Control Board
FC-8910H is a brand new one door access control board of FC-8900 series, which belongs to one door access control board, it is mainly used in : banks, communities, schools, troops, factories, enterprises and other applications.
FC-8910H is a high-end one door access control board with wide application range and superior performance. FC-8900 series all support TCP/IP and RS485 networking, support WG26, 34, 66 input, support 1 group of electric lock 7A dry node NC, NO relay output, support 4 types of alarm input and output, support 9 types of alarms, support used by 120,000 people, with a recording capacity of 300,000.

Product Introduction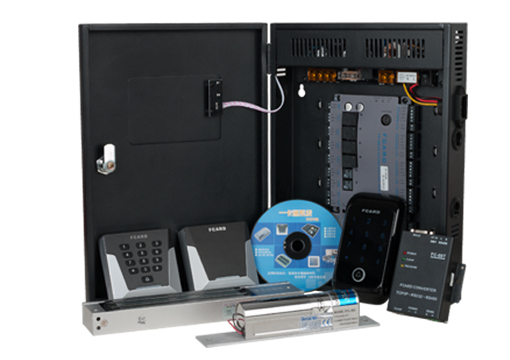 FC-8910H one door access control board
FC-8910H one door access control board use network design mode, developed by super 32 bit core processor which combined with mass FLASH memory to realize LAN and WAN communication network, and supports super high speed data storage.
One door access controller has a built-in operation stability monitoring module to keep the product safe and stable. If an abnormality occurs, it will automatically record and notify the management system, making the operation of each system clearer and more stable. FC-8910H one door access controller has built-in fire alarm input and output and police alarm input and output, and can also be connected with an external alarm expansion board to support fire, police, anti-theft, poison gas and other alarms. Adopting a multi-network architecture design, the FC-8900 series all support multi-computer management access (such as a computer special monitoring data, a computer management authority data, a computer management record data...), the FC-8900 series all support voice output, can effectively guide users to understand current events in a specific state.
FC-8910H is one of the model in the FC-8900 series, FC-8900 series access control board mainly include: FC-8960 time attendance access controller, FC-8910 one door access control board, FC-8920 two doors access control board, FC-8980 base station two doors access control board, FC-8940 four doors access control board, FC-8832 Elevator access control board etc, total are 7 models. The access controller is use RS485+TCP/IP two communication way which suffix is A, The access controller suffix is W means use microwave high frequency wireless communication mode. All of the above models, no matter which communication mode they all can be mixed together to network, manage and control by a software, achieve all in one card pass system.
System Function:
FC-8900 series support (Standard Function):Offline Operation, Reading Card Unlocking, Passwords Unlocking, Reading Card+Passwords Access, Period Reading Card+Passwords Unlocking, Manual Input Card Number + Passwords Unlocking, First Card Unlocking, Normal Card Unlocking, Remote Unlocking, Remote Locking, Unlocking at definite time, Priod Normally Open, Real Time Supervision, Abnormally Supervision, E-map, Duress Alarm, Fire Alarm Linkage, Robber Alarm, Illegal Break In Alarm, Illegal Card Alarm, Missing card Management, Black list Card Alarm, Door open time out Alarm/Prompt, Anti-passback And Anti-tail, Bulk Data Uploading, Small Group Data Uploading, Dual Door Interlocking, Multi-Door Interlocking, Multi-Card Unlocking, Keypad Programming, Emergency Locking, Time Attendence, 64 Groups Time zone, Holiday time zone and etc.
FC-8900 series support (Professional Function):Card Data Recovery, Logs Repair, Prodetection, swiping card and validation, Full Cards unlocking, Full Cards Unlocking+Auto Register, Program Mifare Card By Write Data In, Main Board Buzzer Swith, Clock Self-Adjust, Unlocking Based On Internal And External Validation, 3+1confirmation unlocking, Indoor Population Checking, 5 devices work together, Cross boards interlock, Cross Boards anti-passback, AB groups multi-card unlocking, telephone inform once trigger alrm, operation time dispaly, remote firmware upgrade and etc.
FC-8900 series support (new function): In addition to the above functions, we have added new technologies to the FC-8900 series access controllers that are not or rare in other similar products on the market, such as: card reader circuit abnormality detection and prompts, open the door with static QR code, open the door with dynamic QR code, open the door with Identification card number, voice prompt guidance, system environment temperature detection, input power temperature monitoring, trial period, access control online guard tour, card expiration warning in advance, intelligent clock error every day self-correction, exit switch controlled by time period, remote card reading and photography, anti-theft alarm host function, card reading interval setting, door sensor alarm time period management, communication encryption data, card valid times, capacity self-expansion, Wiegand keyboard card issuing and other new functions . 5 computers are linked for management at the same time, regional multi-boards to prevent sneak back, regional multi-board interlocking, built-in BS management system, remote active connection back to the server, A+B group multi-card opening, flexible card expiration reminder in advance. FC-8900 series one door access controller is one of the advanced access control products at home and abroad.
FC-8900 series support (Site access control function): support pedestrian turnstile management, can achieve two-way control, provide LED screen information output, LCD TV screen information output, support construction site information display, can support unified management of card reading, fingerprint, and face (one set of software unified management), supports multi-platform data upload.

All the above models can use FCARD3500T one card pass management system software, the system supports ACCESS and SQL databases, supports local connection communication, and remote Internet communication.
FC-8910H one door access control board is mainly responsible for access control system control part, it is the most important part, it can store personnel card data, reading data, password data, various parameters, etc. With the card reader, power locks, power supply, push button to comprised access control system etc. FC-8910H can manage two doors and support two door access control. It mainly used in: enterprises, communities, schools, factories, and the FC-8900H series built in a function which mainly used for banks and prison , so it very suitable for bank vault and prison channel.
Product Parameters
Product Name: One Door Access Control Board
Working Voltage: DC12V (9V-14V)
Working Current: < 300mA
Temperature and Humidity: -40℃ to 75℃ (10-90%RH no frost)
Door Control: 1
Card Readers: 2
Exit Switch: 1
Door Sensor Interface: 1
Fire Linkage: 1
Bandit Alarm: 1
Voice Speaker: 1
Alarm Extension: 4 enter and 4 exit (fire alarm, bandit alarm, burglar alarm, Gas alarm)
Reading Protocol: Wiegand 26 \ Wiegand 34 \ Wiegand 66
Register Cards: 120,000 (Can be extended)
Record Capacity: 300,000 (Can be extended)
Communication Type: RS485 + TCP/IP(10/100M)
Communication Distance: RS485(1200m)TCP/IP(100m)
Wiegand: 100m (Suggest 80m)
Size: 150 * 105 * 20 mm
Color: Black
Interface Induction: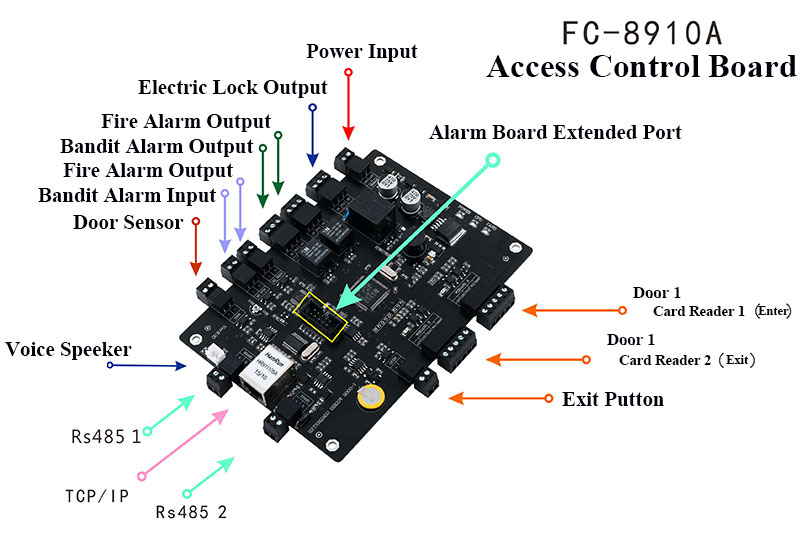 FC-8910H One Door Access Control Board supports: 1 DC12V input, 1 lock relayoutput (Max 12V, dry node output), 1 fire alarm input, 1 fire alarm output, 1 bandit alarm input, 1 bandit alarm output, 1 exit button, 1 door sensor, 2 card reader(one is enter, one is exit), 2 RS485, 1 TCP/IP, 1 AlarmBoard, 1 Voice Speaker Output.
Software Photos: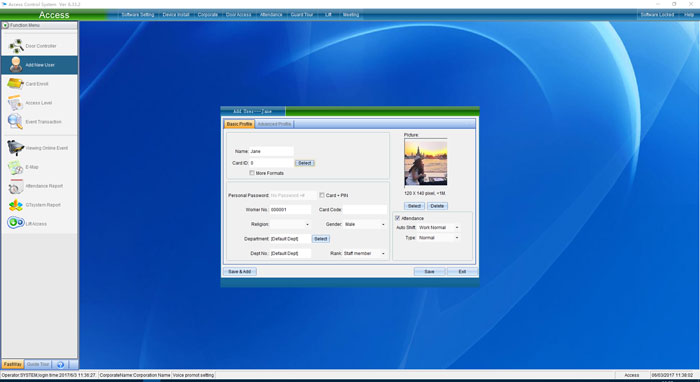 Add User
FC-8900 series all support FCARD3500T one card pass management system, which realizes networking through mixed methods such as RS485, local area network and wide area network. The integrated FCARD3500T one card pass management system can realize the combined use of multiple systems to achieve: access control, attendance, guard tour, elevator, conference sign-in, consumption, water control, card swiping for electricity, card reading and photo comparison, visitor and multi-party authentication, and other multi-system and multi-module collections together to achieve a complete one card pass management system.
FC-8900 series controller adopts FCARD3500Ver6.40 or above one card pass management system as system software. The system software supports SQL and ACCESS databases, and supports WIN XP, WIN 2003, WIN7, WIN8, WIN10 and other system platforms.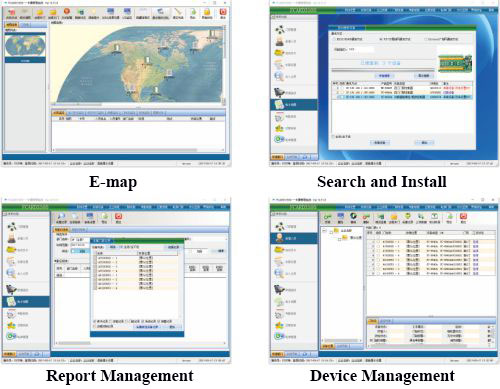 FCARD3500A Ver6.40 version provides: OEM packaging tool, IC Password Edit password sector edit, encryption and decryption tools, device search and test tools, visitor management system, three part control system and ACCESS-SQL database conversion tool etc free tools. Through the SQL database, it can be combined with FCARD5000T POS system, FCARD6000 POS system, parking lot system, which can realize: access control, time attendance, guard tour, elevator, meeting attendance, POS, water control, electric control, parking lot charge, vehicle guidance and integration, to achieve one card pass system, one database management.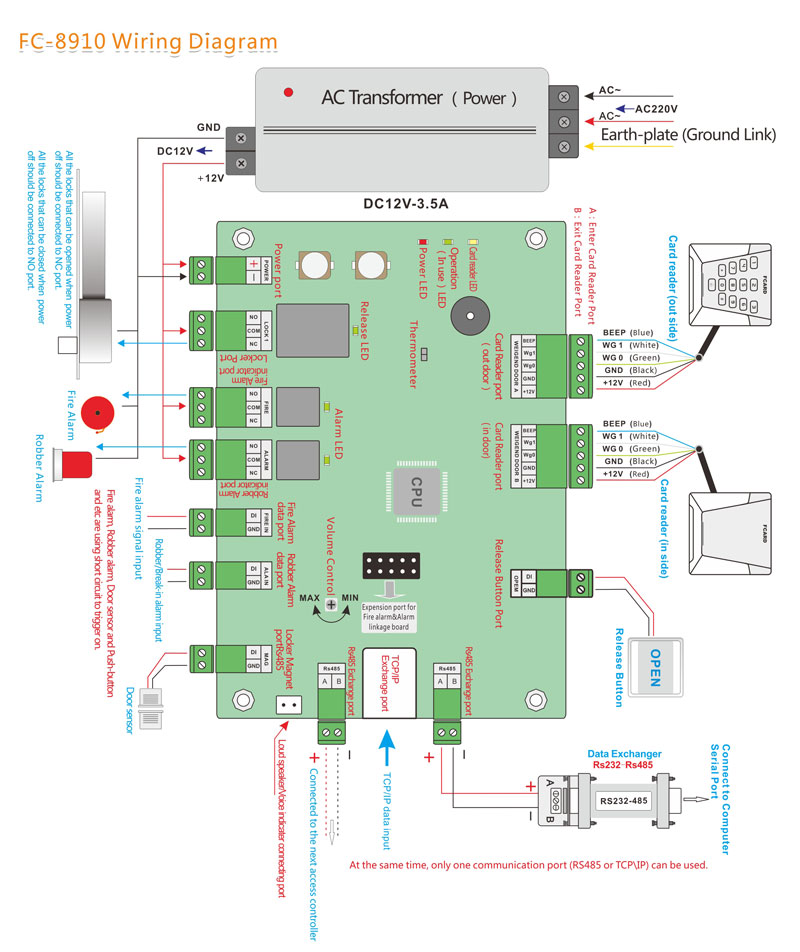 Wiring Diagram: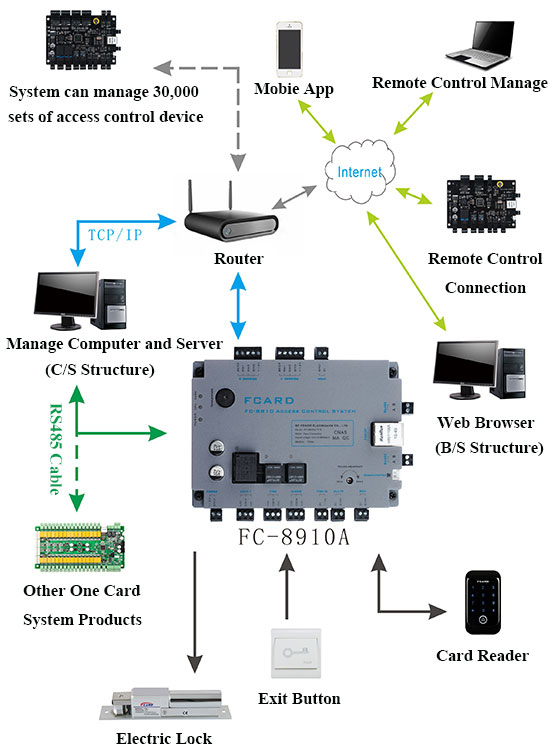 Accessories: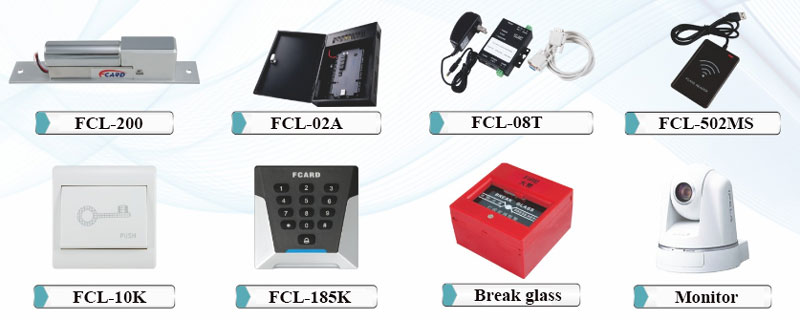 Compatible with FCARD one card pass management system. Support: Access Control System, Offline Access Control System, Time Attendance Acccess Controller, Guard Tour, Consumption Machine, Water Controller, Elevator Access Control Board, Parking Lot System etc unified management, to realize one card pass management system with one card and one database.