FC-391E/M Metal Access Controller
FC-391E/M metal access control is specially designed for electric locks and safety protection systems. It adopts a unique metal shell design, smart keyboard board operation, built-in high-end microprocessor, and its anti-interference ability, safety and reliability are all it is extremely high, and can self-diagnose and protect itself to ensure that the system works safely and effectively.
FC-391E/M series metal access controller has three door opening methods: proximity card opening, password opening, proximity card + password opening, etc. Users can choose the appropriate opening method according to their needs. The relevant parameter settings can be done directly on the keyboard, without the computer makes the operation more convenient.
Product Introduction
FC-391E/M Metal Access Controller
FC-391E/M Metal Access Controller is designed for electric door locks and security systems, uses unique metal shell design, flexible keyboard operation, build in high-grade micro-processor and it has anti-interference ability, security and reliability are very high with function of self diagnosis and self-protection, supports to unlock by card (including EM card, EM compatible card, EM format encryption card), password, card + password. It can set the programming on the keyboard, do not need computer, easy to operate.
Product Parameters
Working Voltage: DC9-13.8V
Working Current: < 150mA
Working Temperature: -10℃-75℃
Reading Speed: <0.2s
User Capacity: 1000 people (expandable to 10000)
Exit Switch: Support
Door Sensor Alarm: Support
Waterproof Identification: IP7 level (black resin glue inside)

Admin Card Management: Support
Card Type: ID card, Mifare card
Wireless Remote Control: Support
Alarm Output: Support
Offline Use: Support
Issusing Device: Keyboard, Admin card
Shell Material: zinc alloy frame, PMMA cover

Size: 133 ×45×19 mm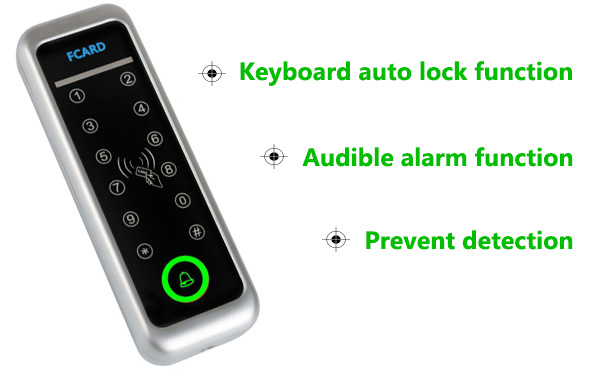 The FC-391E/M metal access controllerhas a keyboard self-locking function. The user can set the number of keyboard errors and preset the keyboard self-locking time, which can effectively prevent others from detecting the password to open the door; anti-disassembly alarm function. That is, disassembly under working conditions for device, the access control will trigger an alarm and output a prompt sound. The illegal door opening alarm function, the device detects abnormal door opening through the door sensor switch signal, the access control will trigger an alarm and output a prompt sound. After the door sensor is installed, this function will be automatically activated. The access control can store up to 10,000 sets of door opening data information (including proximity card opening data, password opening data, proximity card + password opening data), and all stored information will not be lost due to power failure. At the same time, it supports doorbell output and can be equipped with wired doorbells Use (see the structure diagram of the metal access control system below for details).

The metal access controller has powerful functions and simple installation. It is an ideal access control system device used in offices, homes, computer rooms and public places.

Metal Access Control Product Size: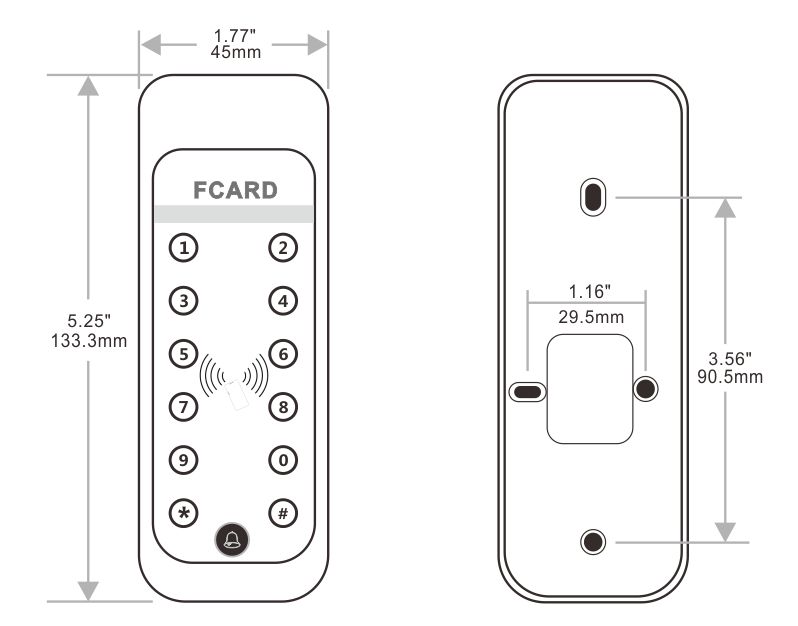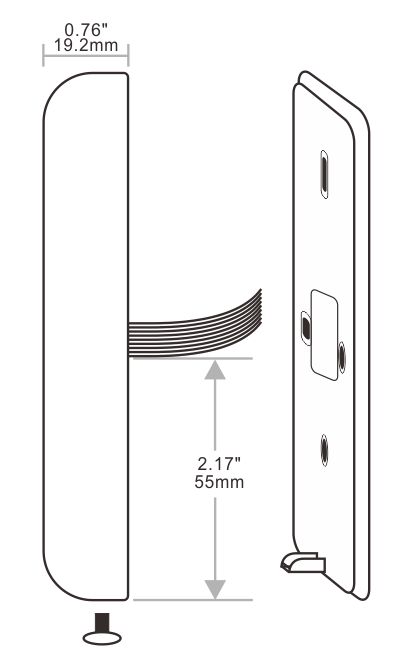 Wiring Diagram: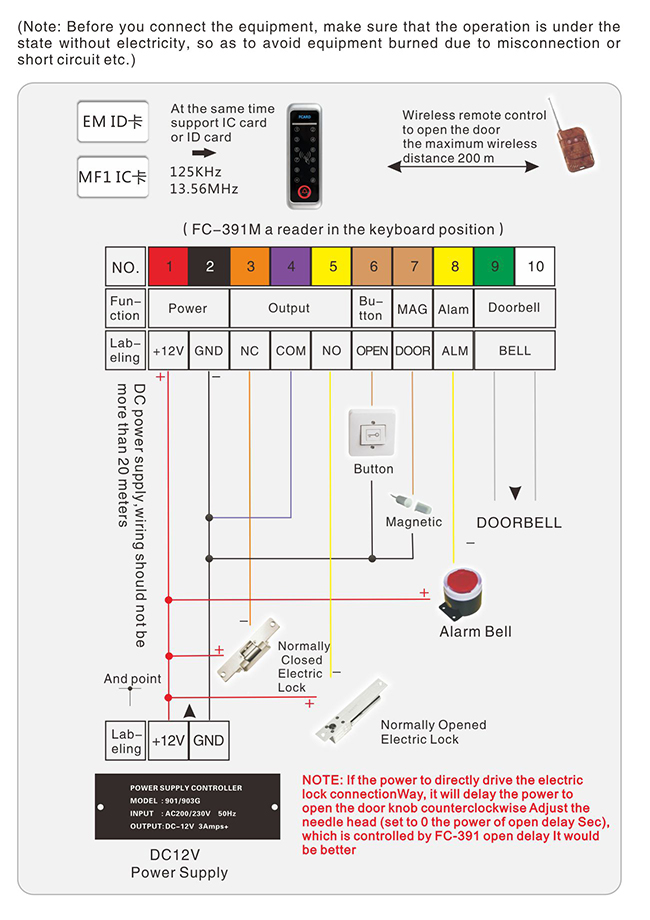 Wiring Ports:
+12V: Power supply anode, input range: DC9-13.8V
GND: Power supply cathode, it's also the common point of the signal
NC: Normally close point of the relays, current load is DC3A / 30V
COM: Common point of the relays, current load is DC3A / 30V
NO: Normally open point of the relays, current load is DC3A / 30V
PUSH: Exit Button, low level unlock
DOOR: Door status switch, connected with magnet, low level means door shut
ALM: Alarm output port, low level there is alarm, current load is 100ma.
WGO: Wiegand 26 output data line (data 0 )
FIRE: Connect the alarm signal (Connect GND trigger)
BELL: Connected with doorbell
Metal Access Control Indicator Light:
1. FCARD: Power indicator, blue light.
2. Doorbell: Card indicator, green light means unlock.
Structure Diagram:
Compatible with FCARD one card pass management system, support: unified management of access control, offline access control, time attendance access controller, guard tour, consumption machine, water controller, elevator access control board, parking lot system, etc., realizing a real one card pass system with one card and one library.