FCT-DB326A Flag Turnstile
Flag turnstile series are intelligent passage management equipment researched, developed and produced by our company. Control and manage the device by equipped with access control system.
Use stainless steel plate,beautiful design,anti rust、durable, using standard electrical interface, easily to integrated the bar code card, ID card, Mifare card to the device.
Product Introduction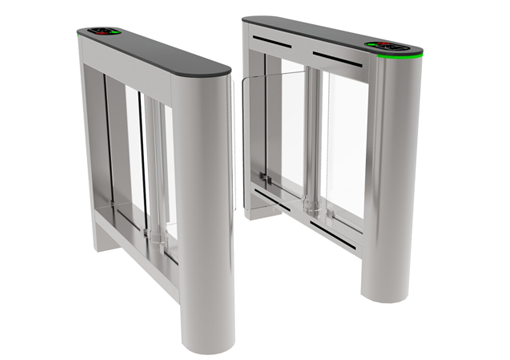 Flag barrier systems provide effective means for pedestrian flow control at entrances of production facilities, administrative buildings, company offices, schools, university campuses, stadiums, leisure and fitness facilities, amusement parks and zoos, shopping outlets.
Applicable to supermarket shopping district boundary one-way management; Adapted to the convenience store entrance control. Suitable for indoor installation depth of a small supermarket, shopping mall a one-way channel control, USES the infrared automatic induction.
Flag barrier , adopts high standard brushed 304 stainless steel, double brushed surface treatment, dustproof,rustproof, rainproof design, suitable for indoor and outdoor use. It is widely used for applications like stadium, apartment, gym, museum, station, library and factory etc.
Product Parameters
Power supply: AC220V + 10V, 50Hz
Working Temperature: -15℃—75℃
Humidity: less than 95%, no condensation
Maximum Channel width: <600mm
Passage Speed: 30 users/ min (tripod turnstile)
Communication Interface: RS485 electrical standard
Communication Distance: <1200
Input Interface: switching signal (COM port is ground)
Working Mode: Single/Bidirection (Adjustable)
Control Mode: semi-automatic / fully automatic / manual
Reading Way: Mifare card/ID card/ magnetic card/ bar code instrument etc.
Material: 304
Weight: 65kg
Color: stainless steel wire drawing or spraying, optional color
Size: 1400 * 280 * 990MM
Input interface: +12V level signal or pulse width >100ms DC12V pulsing signal drive current >10mA
Suitable For: subway stations, terminals, tourist attractions, exhibitions, swimming pools, residential areas, enterprises, institutions, attendance, access control, consumer management, special channel control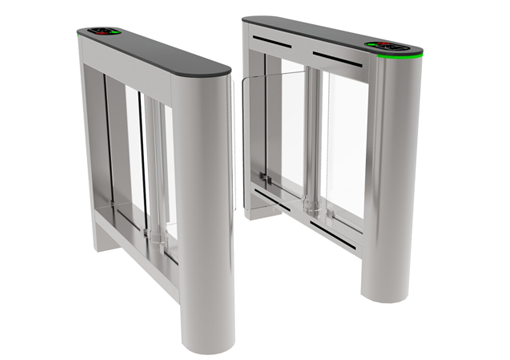 Products Advantage:
1、The movement design is reasonable and reliable,noise is small,internal hydraulic device is automatically buffered,operation very stable,make the service life more long.
2、Have power off to dropping function, also can add remote controller to control, convenient for managing and dealing with unexpected events.
3、LED light with direction indication.
4、Can be set with "memory" or "without memory" (when set as "memory"), can be used for scenic spot which reading once time can pass many people.
5、With automatic reset function,means if not passed within setting time after get the privilege, it will auto cancel the prilege and restored to the locked state.
6、Waterproof, sunscreen, cold resistant, high temperature resistant.
7、With personalized installation interface, compatible with IC, ID card and other smart cards.
8、It has a unified and standard external electrical interface. It can be freely connected with all kinds of read-write devices, so that it is easy to integrate the system.
9、It can be expanded as an automatic identification system, access control, attendance, charging and other functions.
10、Can be used in conjunction with other types of channel products.
Features:
1、Use unique Geneva Wheel structure to realize the zero position locking and unlocking
2、Whole system runs smoothly, with little noise and no mechanical shock
3、It has the function of fault self checking and alarm prompt, which is convenient for user's maintenance and use
4、It has many working modes are available, can be bidirectional reading to limit, also can one side to reading, the other side fobid passed, one side reading card, another side free passed, and the working mode of turnstile can be set by the control board button, without changing the mechanical structure.
5、Arms auto drop when power off , auto up when power on.
6、Remote control drop/up arms, to meet the users and fire security requirements
7、It has a unified and standard external electrical interface.Can be connected with all kinds of read-write devices, which is convenient for system integration, and can realize remote control and manage by computer.
8、It can automatically count the people total quantity, and display bu LED
9、With a clear pass indication function, indicates the user can passed or cannot passed.
10、With reading memory or without memory function,and users can according to their own needs to settings by access control board button
11、Software setting, can limit the persons' quantity,to meet the special requirements.
12、Auto reset function.If not passed within the setting time, it will auto cancel the prilege and restored to the locked state.
13、With anti drilling, anti climbing alarm function(Optional)
14、Auto shutdown / time out(time adjustable) can be adjusted
Applications:

Use stainless steel plate,beautiful design,anti rust、durable, using standard electrical interface, easily to integrated the bar code card, ID card, Mifare card to the device